Here's what our clients are saying about us:
"I have owned the house that Lindstrom looks after for six years.  I switched to Lindstrom after the second year of frustration with a bigger company.
Brad Lindstrom has always been on time for less money to give me a lush, green weed-free lawn.  Each Spring and Fall they carefully prepares the lawn and landscaping for the coming season by turning the mulch, edging the gardens, and trimming the plantings.  Through the summer he and his staff ensure that the lawns and gardens are healthy – even through the hottest parts of the summer.
I could go on, but you'll get tired of reading how good he and the Company are – I have absolutely NO complaints – fair price, excellent work, great customer service!"
– Doug Larson, Antioch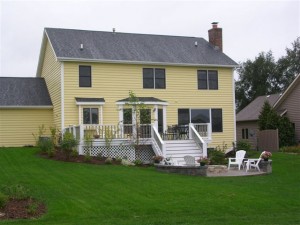 "Lindstrom took care of Pine Hill Lakes Association lawn care during the year of 2010. All of his employees and Brad where very professional. Brad bent over backward to do whatever I ask him to do at the drop of the hat all season long.Very fare dollar bid to take care of lawn and tree"s for Pine Hill Lakes Association! Hope to work with business for years to come."
– Tom, Antioch
"I think that Lindstrom's has only gotten BETTER over the years. I have been a client for 3 years and Brad is always working to increase his knowledge to provide excellent lawn care service.I have the full package – spring clean up, mulching, weed control, etc. Brad is a professional who does an excellent job on a timely basis. It is also helpful that he and his crews speak English."
– Lisa, Antioch
"Lindstrom Lawn Care and Landscaping provided high quality professional service when I needed my lawn cut. I also contracted their weed control and fertilizing services and was very impressed with the results. Highly recommended."
– Tim, Antioch
"You did a wonderful job taking care of my lawn this year and I wanted to let you know that I am interested in you taking care of the snowplowing for my home this winter. Thank you so much for always doing such a nice job. It is much appreciated!"
– Melanie, Antioch
"Lawn Looks Great, After your Weed Control and Fertilzing Program! It did not take alot of green to make the lawn look like a million bucks! Can't wait for next year!"
– Mark & Lisa, Antioch
"Brad did a great job of turning our messy backyard on Grayslake into a beautiful landscape. All work was done professionally and in a very short time. I highly recommend Lindstrom Lawn Care & Landscaping."
– Linda, Grayslake
Click here to leave your own review.